New lovey-dovey items for sale in the Etsy shop just in time for Valentine's Day. Two new listings for handmade heart garlands! The first listing is for a pre-made, ready to ship string of four bright red heart ornaments, strung on a length of hemp and cut to your size specifications. Ornaments are hand-made out of  vegetable tanned leather and painted with a waterproof acrylic ink.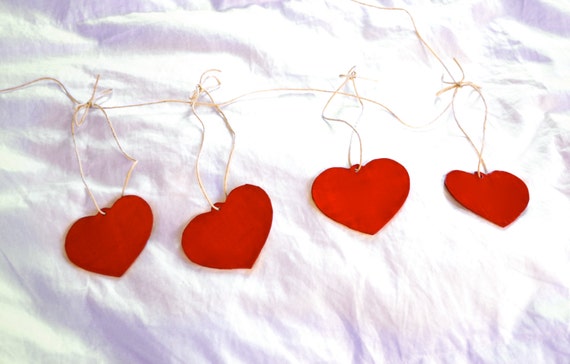 Ornaments are free-sliding on a length of hemp cut to the size you specify. I offer a length of 35″ for standard windows, 40″ to hang over doorways, and 60″ for mantles, double windows, and just about anything else. If ordered this upcoming week, I can have them to you in time for Valentine's, and shipping is incredibly affordable with this light-weight and foldable item.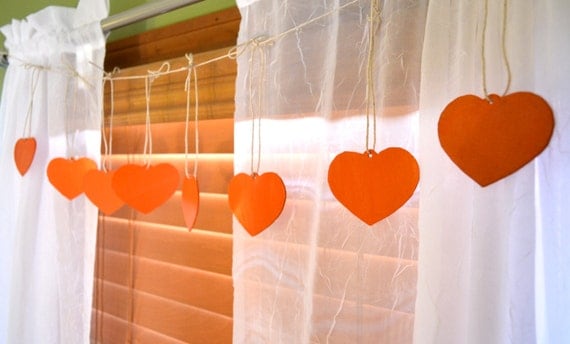 The second listing is for a yet-to-be-made custom string of garland comprised of eight hearts instead of four. Looking for personalized wedding decor? How about a string of eight hand-made heart ornaments painted the color of your choice? Hang these hearts over any doorway, window, entryway, altar, or bride's table to instantly transform the space for your special day. Have difficult to find wedding colors? I can reproduce any shade to match your vision. Want multiple colors? I can make every heart a different color at no extra charge.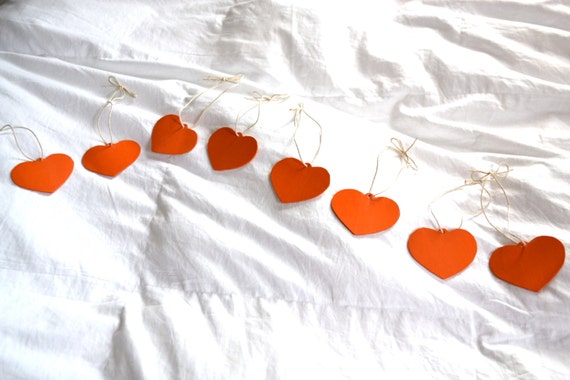 This cheerful modern accessory is made from vegetable tanned leather ornaments painted with acrylic ink and sealed with a waterproof varnish. Strung on cords of hemp and tied in neat little bows, this simple design matches any decor. The best part about this item is, when the wedding is over, your bridal party can each take home an ornament as a bonus wedding favor! Use them year-round as Christmas Ornaments, & Valentine's Decor.