What an interesting week I've had! Before I get into it, I'll apologize for not updating this blog more often. I've gotten so busy between work and trying to squeeze the last drops of summer out of this miserable rainy weather that I haven't had much time to work on or publicize personal projects or new areas of study.
Anyway, my week–and especially this day–was very interesting because by some strange chain of events I was invited to come on WAAF's Hill-Man Morning Show to talk about being a "Nerd Girl" and to play a little game with them. How did this happen? Who am I to appear as a guest on a very popular regional morning radio show? Well sit back and I'll tell you a little story. I listen to WAAF (107.3/97.7FM) on my way to work and at my desk just about everyday. The station plays the sort of music that I like, gives away prizes and concert tickets that I am interested in, and I find their talk-show casts to be quite an entertaining bunch of people. This week on Hill-Man was "Nerd Week" in honor of the recently past Boston Comic Con. To commemorate the event, and have a little fun, the show came up with a game called "Are You Smarter Than A Nerd," wherein they did pre-recorded interviews with con-goers, asking them trivia questions about a particular area of nerd-culture, and challenged callers to beat the nerds' answers. As a result of this game, many heated discussions broke out about whether these nerds were sane, whether the DJs were making fun of these nerds, and whether other hobbies like fantasy sports leagues were any "better or worse" than your typical nerd hobbies.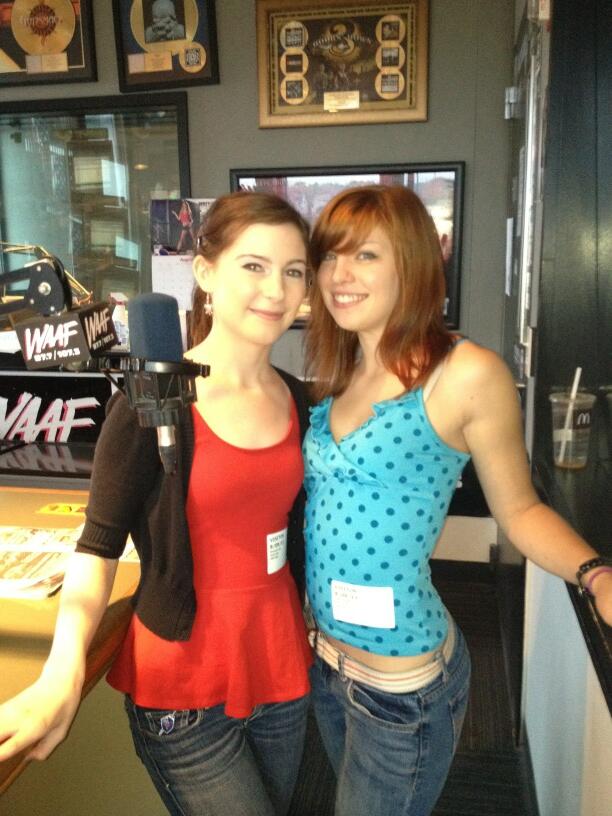 I tuned into some of this debate on my way to work on Wednesday morning, and when I heard about 20 men in a row call in to comment on the subject, I thought it may be fun and useful to give a woman's perspective. Honestly, it didn't really matter to the DJs what I had to say on the issue, they simply seemed stunned that I was a girl…. They asked me questions like, "how much do you weigh?" and "do you wear glasses?" trying to determine if I fit the picture of a nerd girl that they held in their minds. I tried to explain that I was, I think, a decent, normal looking girl with a fair amount of confidence and friends, and yes, that I really am a nerd. Hurrying onto the next caller, the DJs said they may call me back to talk more….. Ok?
So Thursday as I was sitting at my desk listening to the same radio show, I heard my name again as they were rapping things up. They were debating whether or not they were going to call me back the next morning to have ME on the show to play a round of "Are You Smarter Than A Nerd." Long story short because this story is getting really long–A friend and I–because I wasn't going in there without backup–were invited to come to the WAAF studio to play "Are You Smarter Than A Nerd Chick" live on the air, and at the same time break down some negative stereotypes about nerds and nerd girls. Hopefully we did that but who am I to say?
We didn't get into any really heavy discussion of nerd stereotyping or gender inequality, however the existence of stereotypes was implied over and over again in the questions we were given to answer. We had to keep things as light as we could, because let's face it, they weren't going to let us talk for an hour about whatever we wanted. Small-talk, a game, and a few jokes was all that was on the menu, but I hope that we were an overall positive and realistic representation of nerd girls in general, even if our very existence was highly sensationalized and rarified on the air.
Being in the studio and speaking on-air was a ton of fun and we received an overwhelmingly positive response from texters, callers, and tweeters. As with anything on the internet, there were a few people who felt the need to make a negative comment or two about the way we looked or about how the game was too easy, but for the most part I think the audience enjoyed the segment. I know some listeners may have felt like we were being patronized or publicly mocked, but I personally did not feel nearly as threatened as I thought I may have felt. Everyone at the studio was very friendly and respectful, and if anything they said came across as offensive, they either didn't mean it, or said it in jest. That is part of their job after all.
If you would like to listen to Kelley and I representing nerd girls on live radio, you can listen to these two podcasts! But be warned that some of the content could be considered PG-13.
Thank you, Hill-Man Morning Show for having us! We had a wonderful time and would love to chat with you all again!